ABOUT US
Are you wasting money struggling to market your business? Visionary Design Concepts offers clear messaging and marketing that fuels growth for the natural resource industry. With over 10 years of experience, we have helped many companies just like you who face the unique challenges of natural resource products.
We Turn Your Vision for Your Brand Into Reality
Who Are We?
We are your creative visionaries. Your problem-solving partners. We're the marketing partner you wish you had.
What Do We Do?
We are experts making your brand shine. At VDC, the design process is based on a problem solving framework. We must clearly define your customer and communication issues. Many times business owners are too close to their company to define their best message. Together, we evaluate and identify your specific needs.  Learn more about our design process…..
What Makes Us a Great Choice?
We understand how hard it is to start a new working relationship with another business. For us, it is all about our clients. We pride ourselves on developing long-term client relationships. We believe integrity and honesty are vital in everything we do. We enjoy nothing more than seeing client brands prosper over time!
Meet the Owner
Kelley Patrick is a StoryBrand Certified Guide who has a B.A. in Advertising and Graphic Design. Visionary Design Concepts has been a vision for most of her professional career. She has diverse work experience ranging from small business advertising to marketing for Fortune 500 companies. This company has been founded on experience and drive. The name and identity of Visionary Design Concepts developed from a play between the iris of your eye and the iris flower. Not everyone has to draw this conclusion without a description – it means something to us.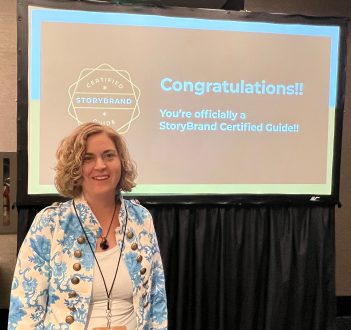 Kelley Patrick
Owner & Creative Visionary